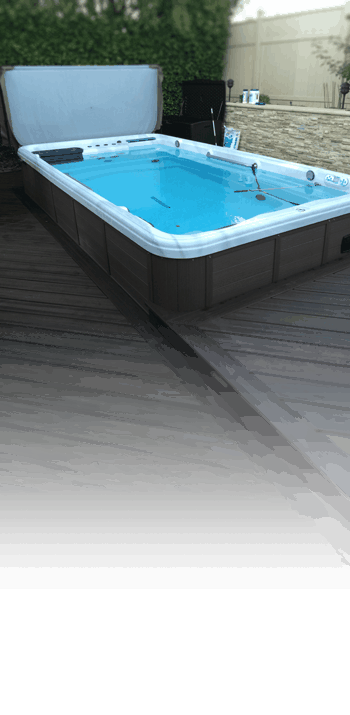 A Stunning Centerpiece to Your Backyard
Your Swim Spa doesn't have to be another beige box. Each model comes with an array of design options that all look great outdoors. Weather you enjoy natural tones or want something flashier, we have enough options to match any of your design choices.
In addition to your choice of materials, there are also many options to choose from in regards to how you want it installed. In addition to the basic above-ground option, you can also have your spa put either partially or entirely inground, or you can build a deck around it. We even have models designed specifically to make semi-inground installations as easy as possible.
Miles Ahead of Swimming Pools
Swim spas outclass swimming pools on nearly every single metric. Having a small pool built will cost you a minimum of $25,000 and requires you to gather permits, research and hire a trustworthy contractor, and then put up with weeks of construction right outside of your house. In contrast, buying a swim spa will cost you less than half that figure, will not require you to get any permits in most cases, and installation is usually done on the same day your swim spa is delivered to you.
Energy Efficiency
You won't only be saving money on the day you purchase your swim spa - you'll be saving money every day you own it! Even our base model swim spas come with energy saving features designed to save you energy. Take a look at the following chart for a price comparison on operating costs:
| | | |
| --- | --- | --- |
| | Swimming Pool | Swim Spa |
| Basic Filtration | $120/month | $6/month |
| Heating | $400/month | $25/month |
| Water Maintenance | $60/month | $20/month |
| Annual Cost: | $1240 | $271 |
---
For Physical Training: An Underwater Gymnasium
Tear up those gym memberships and put up that bar for the last time. Swim Spas offer full-body training techniques used by physical therapists and Olympic athletes. Swim spas offer great exercise even if you are just now learning how to swim! But if you want something more challenging, you can rest assured knowing that swim spas are used by famous athelites like David Scott and Michael Phelps. Physical training in a swim spa offers a number of benefits:
Zero Impact Exercises
Swimming requires no part of your body to impact the ground or walls. Impact is the enemy when it comes to exercise; each time you strike the ground, you are weakening you body's joints, which can lead to lifelong arthritic pain. In fact, swimming is the perfect impact for those who are already suffering from arthritis for precisely this reason. We also offer optional resistive equipment you can use right inside of your swim spa which offer additional zero- or reduced-impact exercises that are ideal for strength training.
Anaerobic Exercise
The secret to getting that sculpted body you've always dreamed of. Short actions taken between short breaks from oxygen intake have been shown to help cultivate higher muscle mass than other forms of exercise. And since muscle mass has a constant calorie burn, it's great for long-term fat loss. And because muscle building requires so much energy, an anaerobic exercise routine can help increase you'r body's ability to resist fatigue.