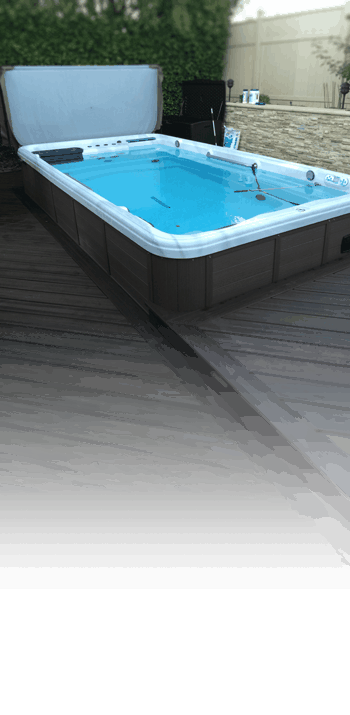 Swim spas are the latest evolution of the portable hot tub; one designed so that you can actually swim in it. The inclusion of high-volume swim jets or other water propulsion systems allow you to get an invigorating swim in a small amount of space. They go by many names; some people refer to them as endless pools or propulsion pools. We've even heard them called wave pools and spools.
Swim spas have a number of benefits built-in. It's common knowledge that swimming is one of the most effective forms of exercise, and our swim spas are all available with an extra equipment package that provide for a number of other exercise techniques. Exercising in water has been proven to enhance your workout; water resistance can make your exercise more intense, and your own buoyancy means that your joints will suffer much less stress. This is an extra boon for those who suffer from arthritis; studies show that exercising in water can help you maintain your strength and range of motion, which also helps to reduce the pain and other symptoms of osteoarthritis. Additionally, most models are 'hybrids' that come with both swimming propulsion systems and hydrotherapy systems you may already be familiar with in regular-sized hot tubs; we even offer dual-temperature models that provide you with a brisk, cool swim followed by a warm relaxing massage. A swim spa can transform your back yard into the main recreation and relaxation center of your house.
While swim spas are much larger than the typical hot tub, they come in a very wide range of sizes, allowing you to find the perfect one for your backyard. You don't even have to worry about ruining the beautiful aesthetics you've already developed; our swim spas can be either fully or semi-inground, and we even offer stunning features such as natural-looking slate siding.
When comparing swim spas to conventional swimming pools, there is no contest over which is superior. Swim spas are less expensive, require barely a fraction of the labor to install, they take up much less space while still having greater capabilities, they are more energy-efficient, and they have superior and much more efficient filtration and heating than you can get out of any conventional swimming pool.