Alpha
Traditional Series by Coast Spas
---
Features and Options
Self-Cleaning Sweeper Jet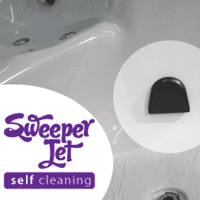 This is a great feature that keeps your spa just that much cleaner. Normally, when you get dirt and debris at the bottom of your spa, it's a pain to clean it; You either purchase an expensive water vacuum to clean it up, or you drain the spa to clean it up - which means you have to refill it and pay high electric bills from it having to heat the water again.
Coast's Sweeper jet completely eliminates the need for either method. It's not just convenient; it's automatic and effort-free.
Click to expand
Hydrocyclonic Filtration System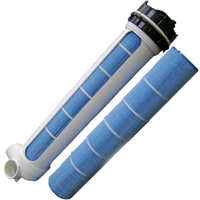 Coast offers the only spa with a filtration system that is approved for the heavy duty scenario of public use. The system consists of a high-quality filtration element contained in a pressurized chamber. This chamber contains and isolates the debris, mold and bacteria colonies from exiting out into the bathing area. Furthermore, it is designed with no bypass valve, so you can rest assured that every single drop of water that goes into that chamber has been properly filtered. Coast really does have the best filtration system in the market.
Click to expand
Specifications
Seating Capacity
6-person spa
Dimensions
75" x 90.5" x 40" inches
Average Spa Volume
276 gallons
Dry Weight
651 lbs.
Total Filled Weight
2954 lbs.
Jet Pumps
Up to 2x 4HP Superflow Pumps
Circulation Pump
None
Filtration System
Hydrocyclonic Filtration System with 175 Sq. Ft. Dual Core Filter
Electrical Requirements
240V 50A
Get a Quote
---
Set up a Wet Test
---
In-Store Appointment
Color Choices
Shell Colors
Cabinet Colors