A Swim Spa Made Just For You
Custom-Tailored for your needs
TidalFit swimming vessels are the most flexible models we offer. They come in a wide variety of styles with an even larger variety of options. Just want to use it for soaking? Just leave off the swim jets. Do you want to entertain large groups? Get yours with bench seating and hydrotherapy jets.

Great In-Ground or Above
Most models are designed specifically for semi-inground installations. The semi-inground models do not require you to build a vault or drainage ditch; after you've placed it in the ground, all you need to do is fill the extra space with dirt and your building is mostly done. This approach makes your inground pool plans easier and less expensive to achieve, and since it leaves you with a stepping area level to the ground, it is actually easier to enter than a traditional inground pool.

Made To Match Your Home
TidalFit has the most cabinet and color options of any of the vessels we sell. Get classical appeal with our Silver Marble shell, or go for a modern flare with our blue Ocean Wave Opal color. You can choose between rock siding or a number of Grandwood cabinets that will match just about any exterior. TidalFit exercise pools look great no matter where you decide to put them.

Exercise Your Own Way
As an alternative to expensive full-size pools, TidalFit Exercise Pools offer a variety of low-impact, effective exercise options to be able to enhance your chances of meeting your fitness goals. With the options of Dual or Quad Jets, Rowing Bars with Resistance Cords, and the Resistance Swim Tether, customizing your water workout will be a breeze. The temperature control allows you to get your daily workout year-round and with the Hydrotherapy option built into the stand-alone Swim Spas, it doubles as a hot tub. Each model is built with quality and fitness in mind.

Get a Quote
---
Set up a Wet Test
---
In-Store Appointment
TidalFit Models and Specifications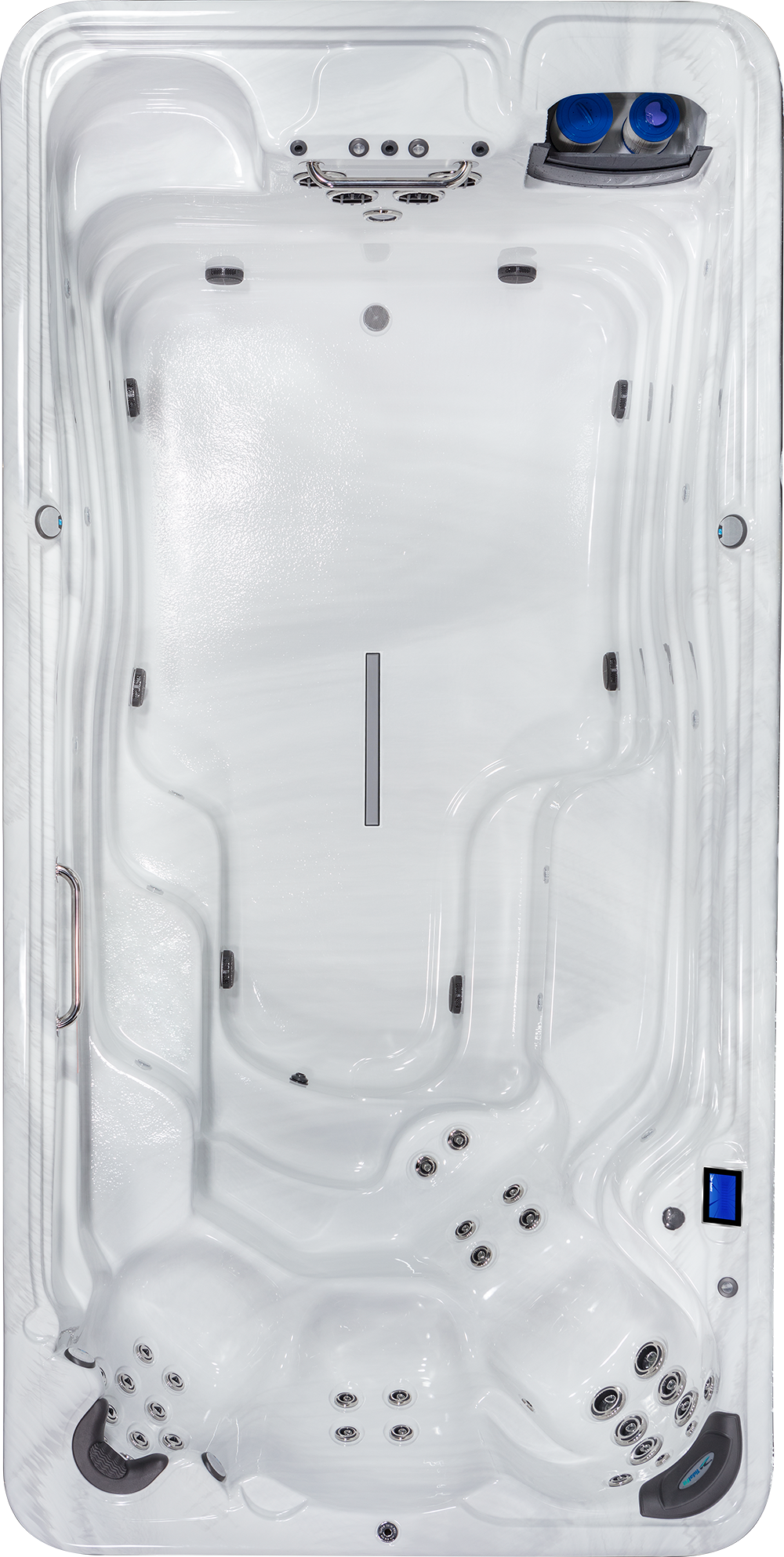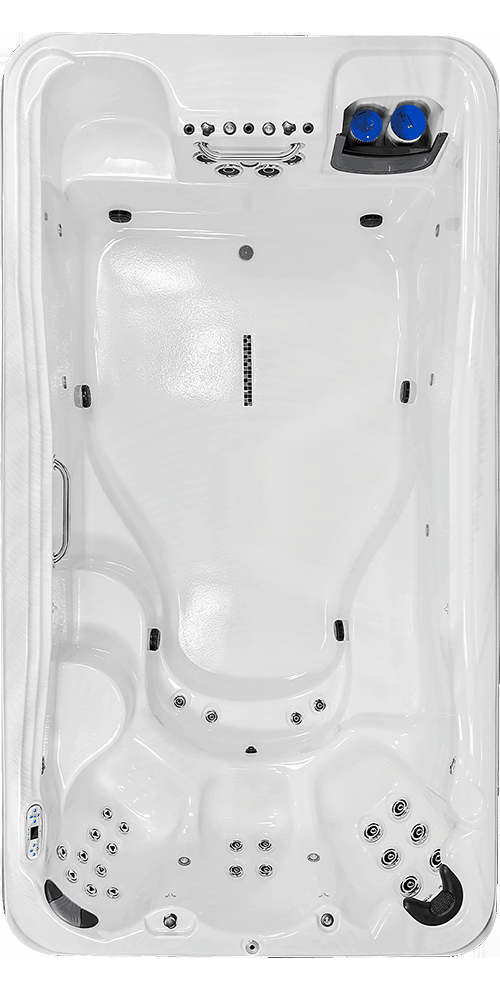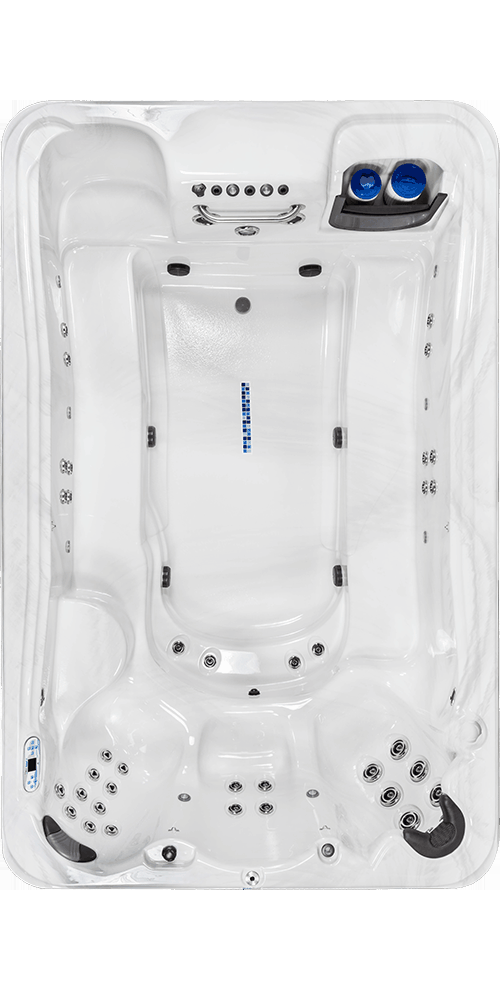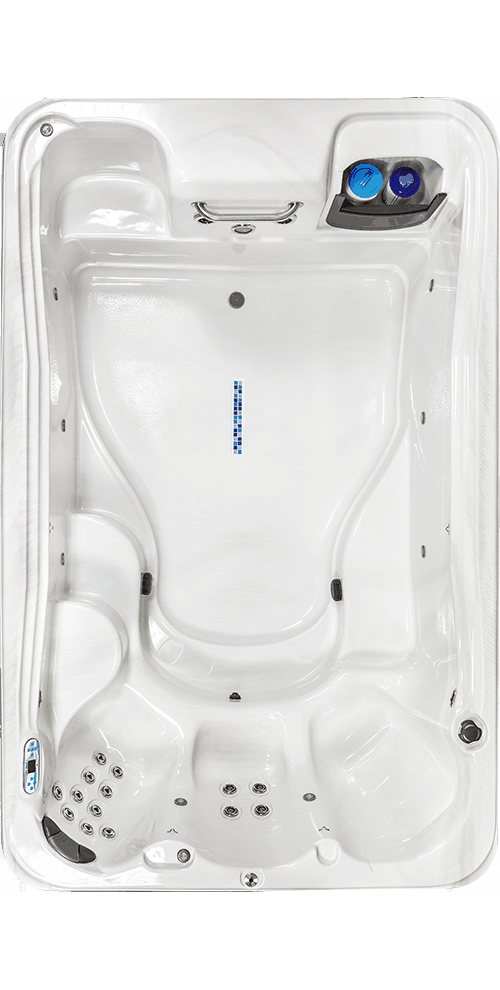 Pro EP-15
Available in Semi-Inground
180" x 91" x 60"
2400 Lbs. Dry Weight
2000 Gallon Water Capacity
All Electric: 240V 50A
Premium EP-14
Available in Semi-Inground
168" x 91" x 52"
2250 Lbs. Dry Weight
1680 Gallon Water Capacity
All Electric: 240V 50A
ActivePlus EP-12
Available in Semi-Inground
144" x 91" x 52"
2000 Lbs. Dry Weight
1300 Gallon Water Capacity
All Electric: 240V 50A
Active EP-12
144" x 91" x 45"
1750 Lbs. Dry Weight
1300 Gallon Water Capacity
All Electric: 240V 50A
Optional Features
Quad Swim Jet System

2x 4.0 HP Swim Pumps with Speed Control
4x 6" Directional Swim Jets

Dual Swim Jet System

Dedicated 4.0HP Continuous Force Pump

Hydrotherapy System

34 Helix Jets
Dedicated 6.0 BHP Jet Pump
Includes BellagioFall Water Feature

Bluetooth Stereo System

4x Marine-Grade 3" speakers
Subwoofer Integrated in spa
Optional External-facing Speaker Available

DynaBrite LED Lighting System

Adds 8x 2" LED Lights
Upgrades Standard 5" Light with LED

Multicolor 10-LED Light Upgrade
Ozone Sanitation System

Optional Ozone Mixing Chamber for higher efficiency
Optional Diamond AOP system combines Ozone, Mixing Chamber, and UV sanitation

Nature2 Mineral Sanitizer
Heater Cut-Off Valves
Stationary Resistant Swim System
Rowing Bars and Resistance Band Kit
VaccuSeal Cover and Lifter
Worldwide WiFi Remote System
Quad Swim Jet System

2x 4.0 HP Swim Pumps with Speed Control
4x 6" Directional Swim Jets

Dual Swim Jet System

Dedicated 4.0HP Continuous Force Pump

Hydrotherapy System

28 Helix Jets
Dedicated 6.0 BHP Jet Pump
Includes BellagioFall Water Feature

Bluetooth Stereo System

4x Marine-Grade 3" speakers
Subwoofer Integrated in spa
Optional External-facing Speaker Available

DynaBrite LED Lighting System

Adds 8x 2" LED Lights
Upgrades Standard 5" Light with LED

Multicolor 10-LED Light Upgrade
Ozone Sanitation System

Optional Ozone Mixing Chamber for higher efficiency
Optional Diamond AOP system combines Ozone, Mixing Chamber, and UV sanitation

Nature2 Mineral Sanitizer
Heater Cut-Off Valves
Stationary Resistant Swim System
Rowing Bars and Resistance Band Kit
VaccuSeal Cover and Lifter
Worldwide WiFi Remote System
Dual Swim Jet System

Dedicated 4.0HP Continuous Force Pump

Hydrotherapy System

28 Helix Jets
Dedicated 6.0 BHP Jet Pump
Includes BellagioFall Water Feature

Dual Bench Seating

Requires Hydrotherapy System
Includes Extra 12 Helix jets and 3.0BHP Jet Pump

Bluetooth Stereo System

4x Marine-Grade 3" speakers
Subwoofer Integrated in spa
Optional External-facing Speaker Available

DynaBrite LED Lighting System

Adds 8x 2" LED Lights
Upgrades Standard 5" Light with LED
Illuminates BellagioFall, if installed

Multicolor 10-LED Light Upgrade
Ozone Sanitation System

Optional Ozone Mixing Chamber for higher efficiency
Optional Diamond AOP system combines Ozone, Mixing Chamber, and UV sanitation

Nature2 Mineral Sanitizer
Heater Cut-Off Valves
Stationary Resistant Swim System
Rowing Bars and Resistance Band Kit
VaccuSeal Cover and Lifter
Worldwide WiFi Remote System
Hydrotherapy System

14 Helix Jets
2 Whirlpool Jets
Dedicated 5.0 BHP Jet Pump

Bluetooth Stereo System

4x Marine-Grade 3" speakers
Subwoofer Integrated in spa
Optional External-facing Speaker Available

DynaBrite LED Lighting System

Adds 8x 2" LED Lights
Upgrades Standard 5" Light with LED

Ozone Sanitation System

Optional Ozone Mixing Chamber for higher efficiency
Optional Diamond AOP system combines Ozone, Mixing Chamber, and UV sanitation

Nature2 Mineral Sanitizer
Heater Cut-Off Valves
Stationary Resistant Swim System
Rowing Bars and Resistance Band Kit
VaccuSeal Cover and Lifter
Worldwide WiFi Remote System
TidalFit Standard Features
Lifetime Structural Warranty
Maintainance-Free Grandwood Cabinet
Hi-Flow Circulation System
Built-in 5.5KW Heater
Full Foam Insulation with ABS Bottom
Advanced Digital Control System with Color LCD Panel
6" Tapered ASTM Cover
Built-In 5" Light Fixture
Get a Quote
---
Set up a Wet Test
---
In-Store Appointment