---
Introducing the 737LE and 737BE
Get More from Your Hot Tub Without Paying More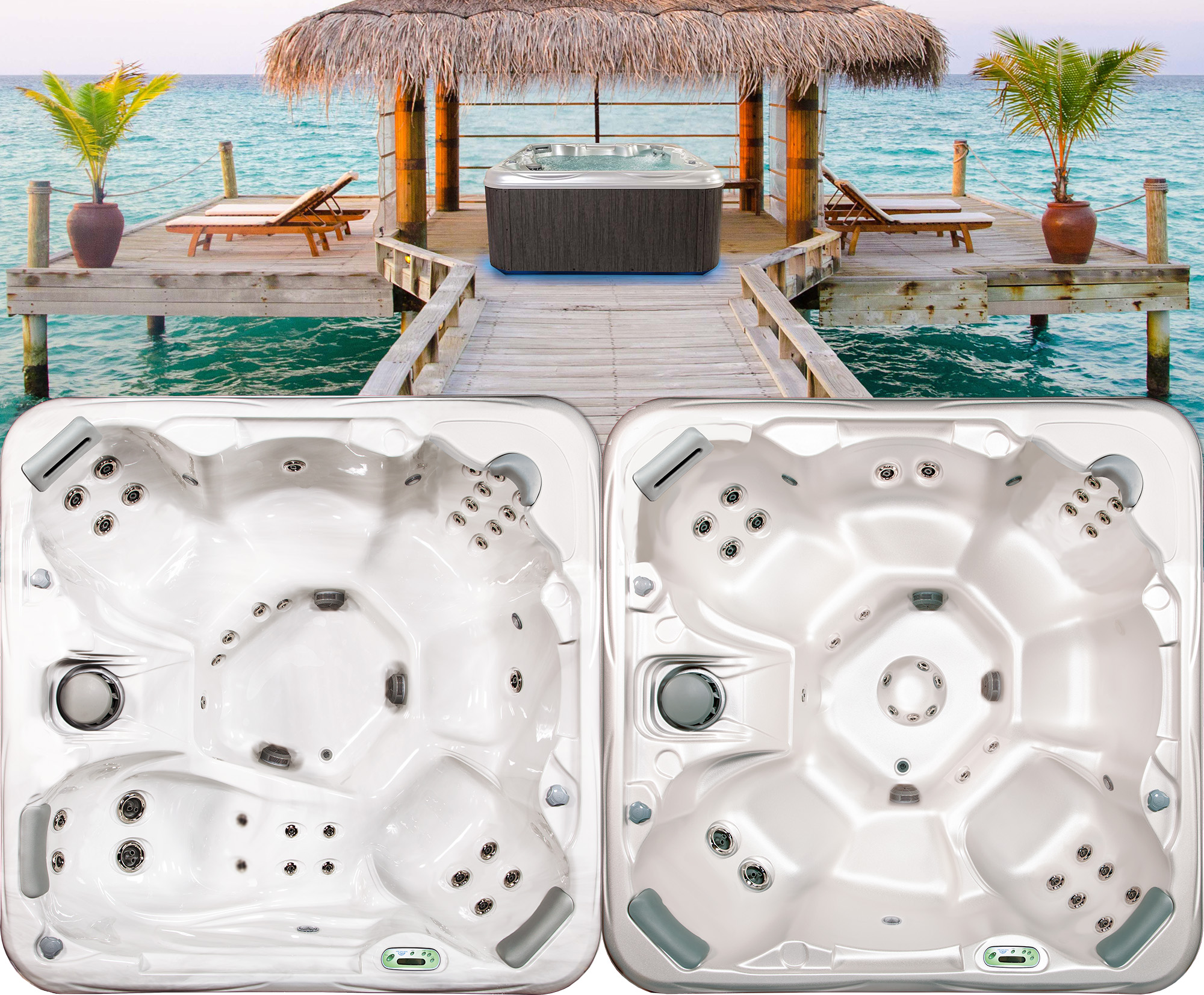 What's new at Whiteswan? Only the newest and most exciting addition to the Artesian South Seas series family! The 737LE, lounge model, and the 737BE, base seating model have arrived! We have both models on display for you to view.
Artesian has really stepped up their game with these two models. They have included neck jets to ease the tensions of the day as standard. They have also introduced (standard and exclusive to these models in the series) Kick Rail Lighting, which illuminates the bottom edge of the spa all the way around, with a vibrant display of colored light. Also a standard feature; DynaStar Lighting, which gives a beautiful glow to the inside of the spa. Coupled with the Kick Rail Lighting on the outside, this spa is a true show-stopper and ensures it will be the focal point of your backyard that it deserves to be.
On top of these new features, all South Seas Deluxe model spas have an Ozone Generator as a standard feature, and they did all this without raising the price. A spa of comparable quality and features can run up to $2500 more. Artesian has always had a reputation of value and they are continuing that tradition.
Come on down to our Santa Clarita or Oxnard locations to see these new models in person. They are great all-around spas, for both novices and veteran spa owners alike. Whiteswan looks forward to helping to make your Spa-purchasing experience as stress-free as possible, while getting you the best value for your hard-earned money.
Get a Quote
---
Set up a Wet Test
---
In-Store Appointment
Hot Tubs

Immerse yourself in warm comforting water and enjoy a massage any time of the day or night. We carry the largest selection of portable spas in Southern California. Each is fully contained and only requires a good surface to put it on and an electrical connection to run the equipment.
🔻 Click for More 🔻
Swim Spas

Do you want to swim in your backyard but don't want to sacrifice the space? Our completely self-contained Swim Spas offer features like jets or tethers that will provide resistance so you keep swimming without ever reaching the edge. Installation is simple, with a minimum of red tape.
🔻 Click for More 🔻
Inground Installations

Looking to get a traditional style pool or spa installed in your backyard? You've found the right place! We have options for both traditional concrete or more futuristic fiberglass shells, and our expert licensed contractor will guide you through all the latest options as you create the backyard of your dreams.
🔻 Click for More 🔻
About Us
Family owned, Whiteswan is the oldest Pool and Spa store in Southern California, opening our doors in 1974. We're your one-stop shop for any outdoor bathing area. As a state licensed contractor we can take care of your installation even if you need additional electrical or concrete work. Our in-house service department is manned by technicians who are not only factory-trained to work on all the brands we sell, but are also certified to execute your warranty should something go wrong. And at our stores are friendly staff who can help you with advice on how to maintain your pool or spa's water — the key to keeping your equipment running for years to come.
---
Need Help?
Contact us at your nearest location for a free consultation with our staff.
Whiteswan Pools and Spas
Oxnard
3007 Ventura Blvd.
Oxnard
,
CA
93036
805-981-8112
Hours of Operations
Sunday and Monday
By Appointment Only
Whiteswan Pools and Spas
Santa Clarita
19443 Soledad Canyon Road
Suite 115
Santa Clarita
,
CA
91351
661-250-8112
Hours of Operations
Sunday and Monday
By Appointment Only
Or fill out this form and we'll contact you!
Get Directions to your local Whiteswan Pool and Spa Store
---