Get the ultimate workout with an Aquatic Training Vessel
Designed for Your Success
It doesn't matter if you're an olympic athlete or if you're trying to recover from muscular atrophy - ATVs are designed for people at all levels of strength and fitness. Many exercises do not even require you to know how to swim! But if it's a swim you are after, our ATV Kona offers one of the best swimming systems in the industry, pushing up to a massive 1,000 gallons of water per minute!
The ATVs were designed by six-time Ironman Competition winner Dave Scott, who created it specifically for personal training. That's why you will find features like bowed sides to give you room to stretch your arms all the way. The swimming area is extra deep, allowing you to use the floor as a treadmill.
For those interested in Dave Scott's training program, offered at a discount for all ATV purchasers. The program features six different areas of focus spread across over 100 videos, and comes with written exercise references printed on water-resistant paper that you can refer to directly from inside your ATV.

The Strongest Swim Spas
Most swimspas are built with thin sheets of brittle acrylic stretched to over twice their original length and sprayed with fiberglass to prevent it from shattering. That leaves you with a paper-thin layer of acrylic that will develop cracks over time. This shell is then put over a simple wooden frame.
ATV swim spas are built entirely out of a thick layer of bonded polymer resin. This choice of materials provides you a much stronger shell that won't crack. This shell is installed on a unibody fiberglass body. Fiberglass is not only much stronger than wood, it also will not rot. The colored accents on the shell are not just stickers like you'd find anywhere else; they are permanently bonded and will never rub off.

Batteries Included
Each ATV model includes everything you need to succeed. Other swim spas will upcharge you to add swim jets, but they come as a standard feature on every ATV. The only options you need to choose at the time of purchase are entertainment features such as stereo systems, waterfalls, and lights. Other accessories like exterior steps and cover lifters may be installed at any time after making your purchase
The best part of this approach is that two jetted hydrotherapy seats come as standard on every ATV. You can easily turn the heat up and run it just like a giant hot tub!

Get a Quote
---
Set up a Wet Test
---
In-Store Appointment
ATV Models and Specifications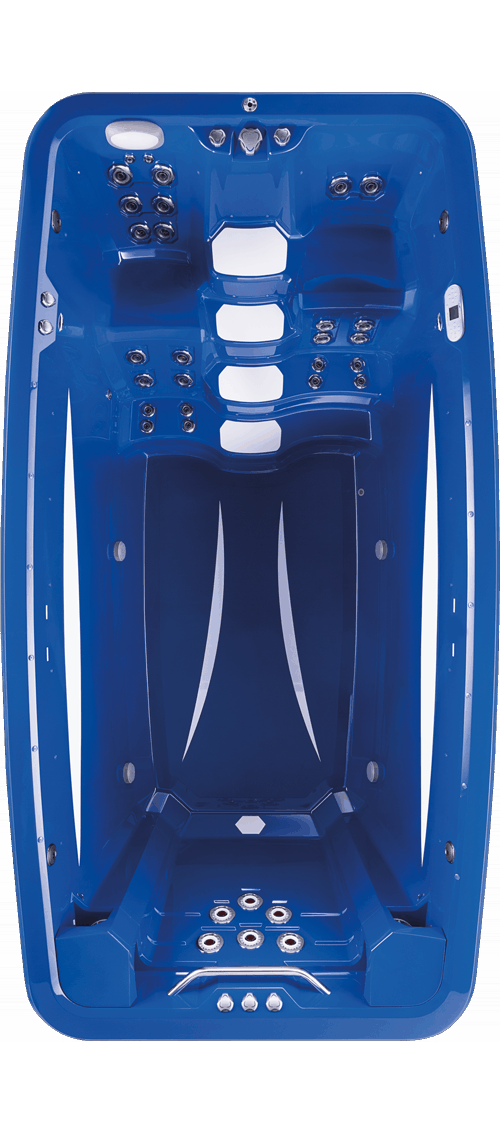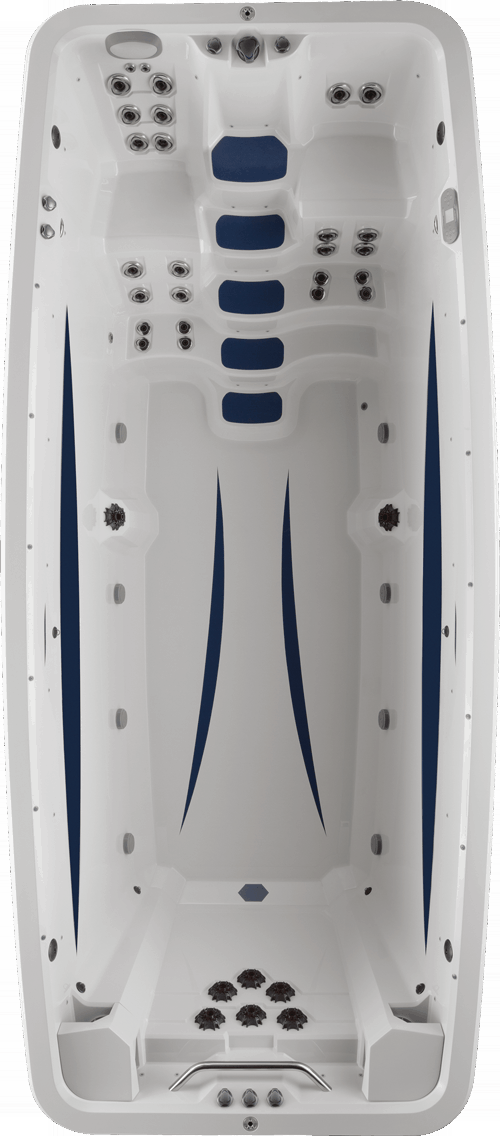 ATV-14
Water Depth: 48"
26 Therapy Jets
168.5" x 89.5" x 56"
2140 Lbs. Dry, 16526 Lbs. Wet
All Electric: 240V 50A
ATV-17
Water Depth: 53"
26 Therapy Jets
204" x 89.5" x 61"
3060 Lbs. Dry, 22450 Lbs. Wet
All Electric: 240V 50A
ATV-14 Splash
2 High Volume Turbo Swim Jets
Two-Speed 160gpm pump
ATV-17 Sport
6 High Volume Turbo Swim Jets
3x Two-Speed 160gpm pumps
480gpm flow rate
ATV-14 Sport
6 High Volume Turbo Swim Jets
3x Two-Speed 160gpm pump
480gpm Flow Rate
ATV-17 Kona
6 Whitewater-4 Swim Jets
2 Buoyancy Jets
1000gpm flow rate
2x Two-speed 360gpm pumps
1x Two-Speed 160gpm pump
ATV Optional Features
Bluetooth Audio System
22-point LED light System
12-point fountains with LED lights
Resistance and Rowing Exercise Kit
Removable Aqua Aerobic Step
WiFi Remote Control System
Ozone Water Sanitation System
Get a Quote
---
Set up a Wet Test
---
In-Store Appointment