You Don't Have to Choose
Get both a pool and a spa in one convenient package
Swim Hard, Then Relax Easy
Our dual-temperature fitspas are perfect for those who don't want to compromise between getting a pool and getting a great hot tub. While you can get a single-body exercise pool with hydrotherapy seats in it, It's not as satisfying to relax in cool water or to swim in hot water.

Made For Your Convenience
Every aspect of our dual-temp swim spas are designed to make things easy for you. The inner steps are positioned to make it easy to get in and out from either section, and the swimming section comes with three conveniently-placed grab bars. With both I- and L-shaped options, It's much easier to fit where you want it in your home. Every model we offer is available in a semi-inground variation which provides the easiest installation of any pool out there; after you place it in your hole, just fill the gaps with dirt and you are done.

Even the Base Model is Fantastic
All of our dual-temp pools come with a bounty of features as standard. The swimming section comes with four giant 5" swim jets backed with two powerful 4HP water pumps, guaranteed to give you an excellent swim. Above the swimming jets is TidalFit's unique BellagioFall water feature; three ropes of water that glide through the air. The jets in the hot tub section are powered by Artesian Stainless Steel Helix jets, giving you an extremely comforting massage. Either body of water is supported by its own hi-flo circulation system, helping to keep your water clean at all times.
Our optional features take our already luxurious fitspas into another level altogether. With options including stereo systems, Color LED lighting packages, and automatic sanitation systems such as our exclusive Diamond AOP which integrates advanced Ultraviolet and Ozone sanitation technologies. We even offer a WiFi option allowing you to control your pool from anywhere in the world.
---
The Swimming Pool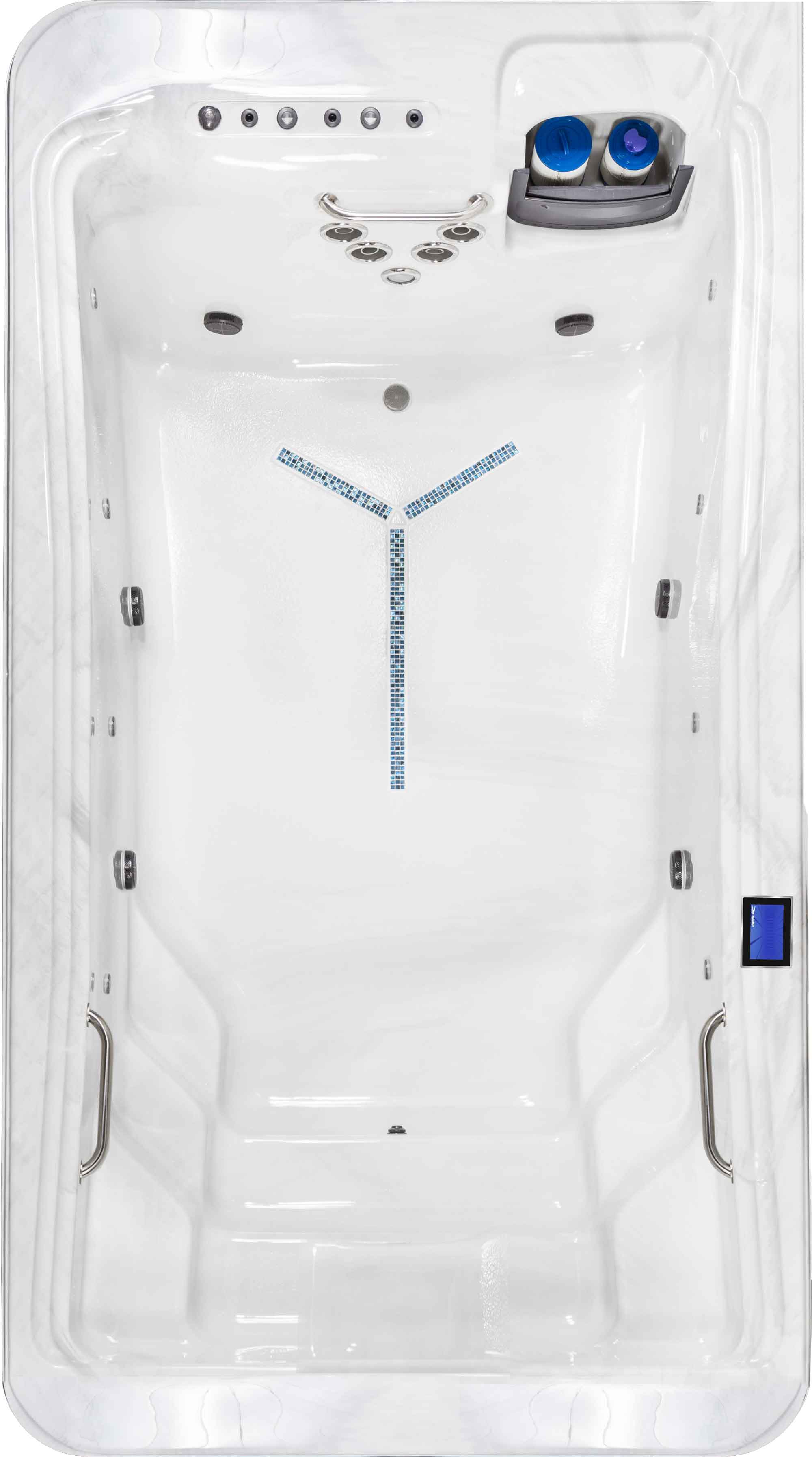 Specifications
Dimensions: 168" x 91" x 54"
Water Capacity: 1680 Gallons
Dry Weight: 2250 Lbs.
Standard Features
Quad Swim Jet System

4x Directional 6" Swim Jets
2x 4.0HP Jet Pumps with Speed Control

Complete Pool Equipment

Hi-Flow Circulation Pump
5.5KW Electric Heater

3 Grab Rails
Bellagiofall Water Feature
5" 12V Pool Light
Optional Features
Variable Flow Swift Water Trainer

2x 5.0HP True Variable Speed Swim Pumps
4x Directional 6" Swim Jets
Touchscreen Control with Programmable Swim Workout Options
Built-in Wifi
Control your swimming pool with a smartphone app

Dynabrite LED Lighting System

Replaces 5" Light with LED
8 Additional 2" LED lights
Illuminates Bellagiofall Water Feature

Nature2 Mineral Cartridge sanitizer
Ozone Sanitation system with Mixing Chamber
Diamond AOP UV/Ozone Sanitation
Stationary Resistant Swim System
Row Bar and Resistance Band Kit
---
The Hot Tub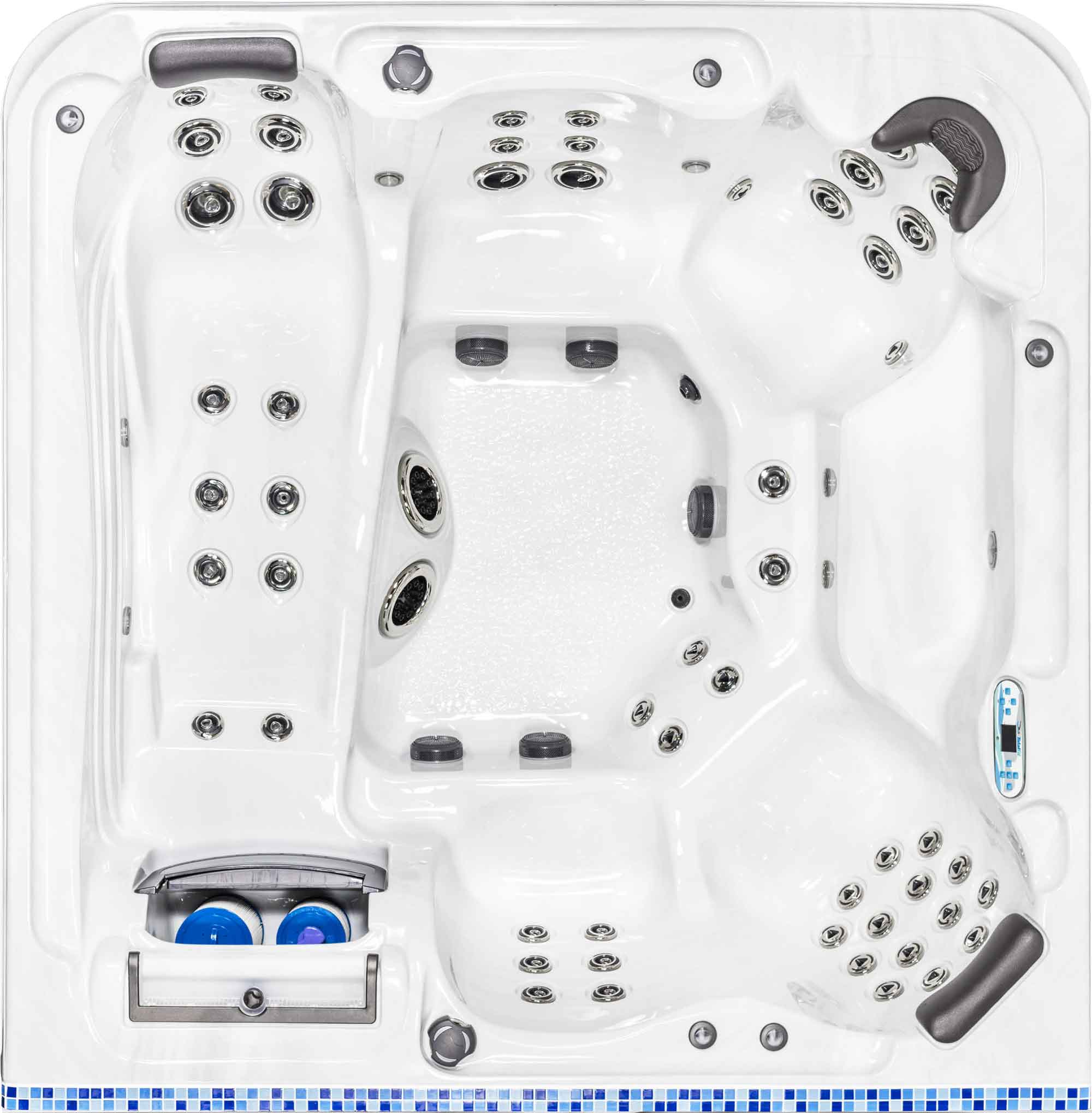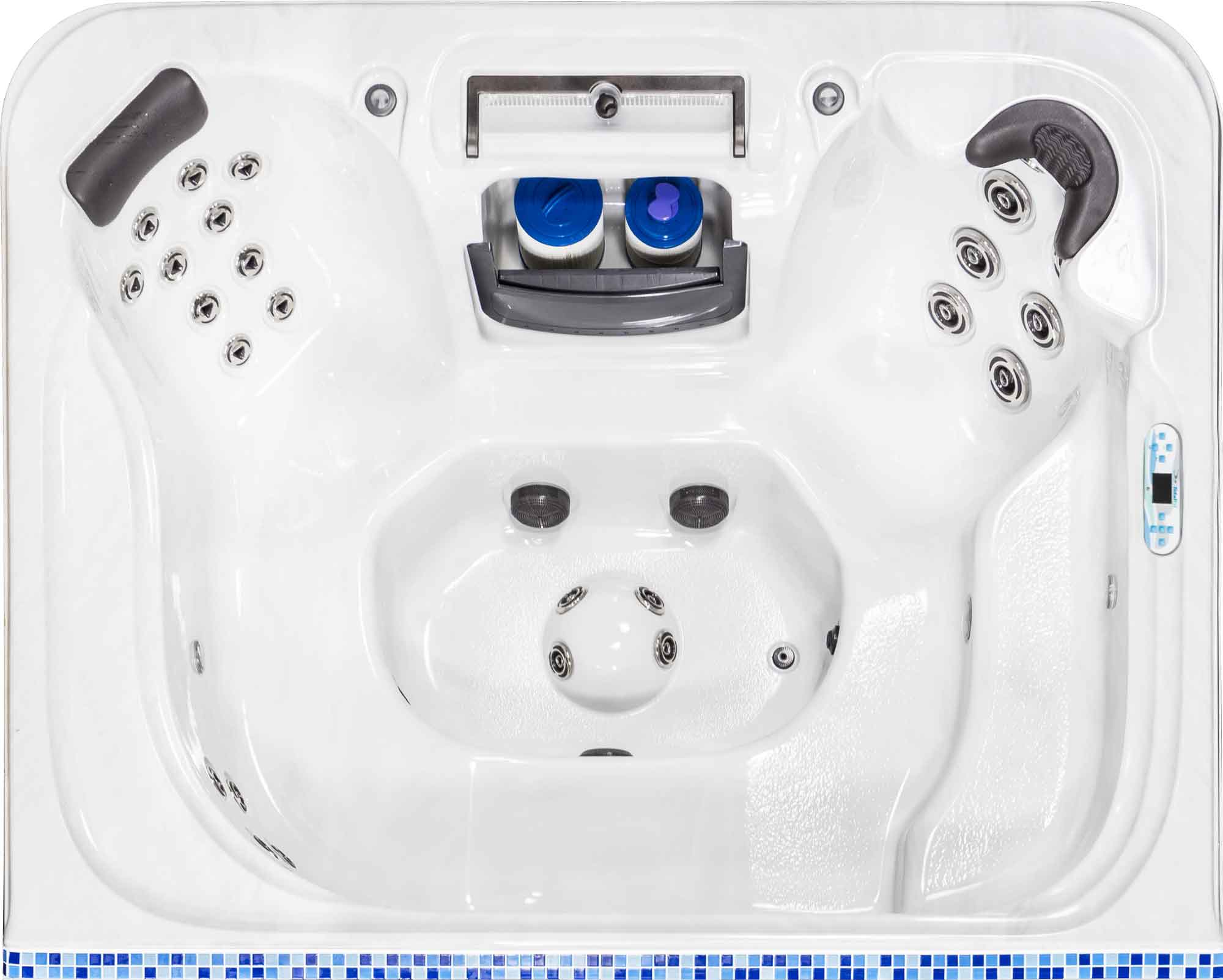 8 Foot Lounge Hot Tub
Specifications
Dimensions: 91" x 91" x 54"
Water Capacity: 450 gallons
Dry Weight: 947 Lbs
56 Helix SS Jets with Dual Footblaster Jets
6 Foot Hot Tub
Specifications
Dimensions: 72" x 91" x 54"
Water Capacity: 375 Gallons
Dry Weight: 850 Lbs.
26 Helix SS Jets
Hot Tub Options
Bluetooth Stereo System
Worldwide WiFi App Module
18" Tranquility Fall
Pump and Heater Valves
Diamond AOP Sanitation System
Crystal ProPure Ozone with Mixing Chamber
Nature2 Mineral Cartridge Sanitizer
Get a Quote
---
Set up a Wet Test
---
In-Store Appointment
---